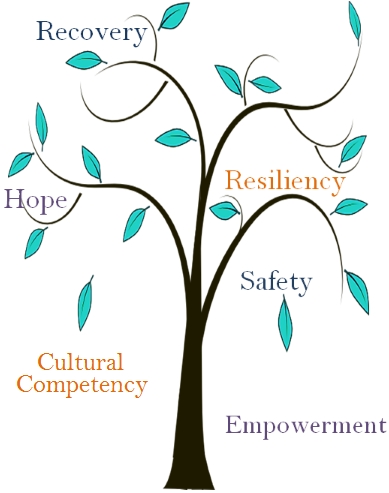 Our Vision Statement
Empowering HOPE, RELIEF, and RECOVERY
Services
Greater Lakes Mental Healthcare is a full service community mental health center, providing high quality behavioral healthcare services to Pierce County for 50 years. We have two convenient office locations; one in Lakewood at 9330 59th Ave SW, and one in southeast Tacoma, at 1415 East 72nd Street, Suite B.
We serve over 10,000 individuals each year, helping children, adolescents, adults and families. For an appointment, call us at 253-581-7020 or just walk in to our Main Building in Lakewood. Greater Lakes provides a full range of individual, family and group services, including medication services.
Organizational Philosophy
Greater Lakes Mental Healthcare is a values-driven organization. That means that we work to align our choices around our facilities, our programming, our staffing and our behavior with our values.
Our Organizational Values
Do the right things for the right reasons.

Provide great customer service with high-quality outcomes.

Communicate openly, honestly and respectfully.

Problem solve collaboratively with clients, staff and the community.

Promote healthy options for clients and staff.

Be nimble and responsive in creating solutions.
Building and Maintaining Our Culture
To ensure that our workforce understands how important these concepts are, every single employee within the organization is evaluated on their customer service, communication style, teamwork, dependability and adaptability. By evaluating all agency employees on these expectations, we continually reinforce the importance of not just what we accomplish, but also how we accomplish our goals. Our organizational values and our expectations for all staff combine to form the backbone of our agency culture. We maintain high expectations for ourselves and we hold ourselves accountable to those expectations, to each other and to those we serve.
Your Role
Whether you are an individual receiving services, a family member, a vendor, a funder or staff, we ask for your feedback to ensure that we maintain the highest possible standards of conduct. We value your input and we commit to being open to growth and change.
Clinical Philosophy
The philosophy and practices of Recovery and Trauma Informed Care are the foundations upon which our clinical care is based. All services, whether they provide treatment, support, or education, have this approach in mind. We are committed to the belief that everyone has the potential to recover and to realize their hopes and dreams.
We combine evidence based treatments with recovery and trauma informed principals as a care philosophy that maximizes the impact of positive outcomes for those we serve. We believe the care we provide is more than treatment and is an organizational culture of respect which promotes client choice, empowerment, and inspires hope.
As part of our recovery and trauma informed approach to care, we employ Certified Peer Specialists throughout our organization. Peer Specialists have lived experience with mental health challenges and are examples of recovery and wellness. Peers are in a unique position to model their recovery, tell their story, and empower others to find their own pathway to health and wellness.
As an adjunct to professional counseling services, Peer services provide a rich experience, inspire recovery and demonstrate the reality of recovery.
If you have your own lived experience with mental illness or mental health challenges, have been in recovery for about a year and wish to explore becoming a Certified Peer Specialist, click HERE to take you to information about how to get certified.
Connections, Our Annual Report
For our most recent issue of Connections, click on this LINK.   Greater Lakes publishes Connections annually, in the fall or winter.
Contact Us
Greater Lakes Mental Healthcare
9330 59th Ave SW, Lakewood, WA 98499
253-581-7020
To request copies of your medical records, click HERE to download a Release of Information form.  Click HERE for completion instructions. (Form is in PDF format.)