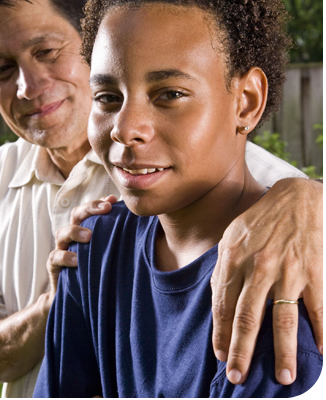 Having everybody in here actually cheering for you really helps.
I've had therapy before and never really felt like it was helping.  It just seemed like a waste of time. There's just something about this place.  I love coming here and I finally feel like it's helping!
Me and my counselor are a pretty good team.  She's awesome!
When my counselor comes to work, she brings a little bit of sunshine with her.
My counselor's voice on the phone is very welcoming and I appreciate how quickly he was able to respond and explain my situation!
I don't know where I'd be without Greater Lakes.  I have an amazing therapist and an awesome med provider.  They both just get me.
I love how the Front Desk staff always remembers my name and who I am.  It's comforting and helps make the process of coming here a little easier.
I feel so very well understood and respected as a person with my counselor.
I look forward to seeing my counselor….a chance to sit down, open up and talk about who I am…I always held everything inside but I'm gradually opening up.
When I wake up on Thursday I think about what I'm doing that day and I go, 'oh! Yay! I get to go see my counselor today!' And then I smile the rest of the day.
You have helped me so much in ways you don't even know.
I always feel respected by my counselor. I can tell he really cares about me.
The therapists and counselors were amazing. I feel like I got my life back.
All of the care provided at Greater Lakes Mental Healthcare is designed to promote the individual's recovery. All of our clinical teams adhere to the recovery model, which is based on the foundational belief that everyone has the right to be treated with dignity and respect. We recognize and support an individual's strengths, preferences and unique paths to recovery. Greater Lakes is also a trauma informed organization which means we recognize the prevalence of trauma histories among those we serve, work to provide a non-traumatizing environment and provide evidence based treatments to help individuals resolve their trauma on their own timeline.
All services are provided by staff with the appropriate credential, education and experience for the position they hold. Greater Lakes employs AA and BA level counselors, Certified Peer Counselors, Masters level counselors, Licensed Practical Nurses, Registered Nurses, Psychologists, Advanced Registered Nurse Practitioners and Psychiatrists. In addition, Masters level interns provide counseling, with supervision from licensed clinical staff.
Access Services
Our Access Center is designed to ensure that those who are seeking services meet with a friendly and competent clinician, as soon as they ask for help, and at a time of their choosing.   We realize that it takes courage to ask for help, and that those who are struggling with their mental health have already encountered far too many challenges.  Getting in for help should not be one of those challenges.
People seeking help can call and obtain an appointment time that is convenient for them, or they can simply walk into our clinic during business hours to ask for an immediate appointment for an intake assessment.  We will make every effort to accommodate your request.
Each individual who comes for an intake assessment is encouraged to bring along family or friends who the individual wishes to have present during the assessment.  It is important that those who come in for an intake assessment feel as comfortable and as safe as possible.  Please let us know if you are coming in for an intake assessment and wish to include someone else.
Mental Health Services for Adults
Greater Lakes provides multiple services, including: individual, family, group therapy, case management, peer support delivered by a Certified Peer Counselor, education about different diagnoses, symptom management, medication management, and medication monitoring.
Services for Children and Adolescents
Greater Lakes provide individual, family, advocacy, case management and group therapy to children, youth and families. Services are provided in our several office locations as well as in school settings. Please call our main office at 253-581-7020 for more information about counseling and location options for your child.
Psychiatric Assessment and Prescriptive Services
Greater Lakes employs Advanced Registered Nurse Practitioners (ARNPs) and Psychiatrists who provide clients of all ages with psychiatric assessments and when warranted, prescriptive services.
Specialty Services
Greater Lakes has a number of specialty services that provide uniquely tailored services to niche populations.   The Recovery Model and Trauma Informed Care practices are used in all of our services, including these specialty services.
Forensic Services
We provide the following forensic services to adults:
Jail Transition Services
These services are for adults who enter the Pierce County Jail and who have an identified mental health diagnosis.  Greater Lakes clinicians are sited at the Jail and meet with individuals to assess their resources in the community and help with release planning.   This team helps incarcerated individuals re-establish their Medicaid coverage and plan for where they might go after release.
Community Re-Entry Program
These services are offered to a small group of individuals who have an unusually high number of repeat Jail bookings, due to their mental health challenges.  Many of the people who are served in this program have complex challenges that include not just mental health, but often substance use disorders and homelessness.  Our team of clinicians, peers and a nurse work with these individuals to find housing and build community supports, so that upon release they have improved odds of avoiding future arrests.
Felony Mental Health Court
Our Felony Mental Health Court and Forensic Assertive Community Treatment programs are offered in collaboration with the Pierce County Superior Court.   Individuals in this program have committed a non-violent felony, have a mental disorder and are willing to go through a rigorous program in order to defer and hopefully avoid prosecution.   Treatment for both mental health disorders and substance use disorders is made available to these individuals in order to help them find a path out of their current circumstances.
Lakewood COPS Program
Greater Lakes has a mental health professional who is teamed up with a Lakewood Police Officer, and responds to community calls in which someone with a perceived mental illness needs intervention.  The goal is to avoid arrest and instead divert individuals towards the appropriate mental health or substance use disorder treatment when appropriate.

Offender Re-entry Community Safety Program
Greater Lakes contracts with the State of Washington to provide re-entry services for individuals with a mental illness who are leaving prison and re-entering the community.  These services begin just before the individual is released from prison, and continue on in the community to assist with a safe and stable return to community life.
Services and Supports for Homeless Individuals
Projects for Assistance in Transition from Homelessness (PATH)
Our PATH team is an integral part of the homeless system in Pierce County.   They provide community outreach to homeless camps, hot meal sites and other locations where individuals who are struggling with homelessness gather.   The goal is to engage people in services when appropriate and to provide general supports to help individuals who are homeless.
Housing and Urban Development (HUD) Housing
Greater Lakes has one HUD Housing First program. All referrals into these units must come from the Pierce County Coordinated Entry System (CES) priority pool. Greater Lakes is a partner in the CES and can offer enrolled clients an appointment to complete an assessment which will enter the person into the priority pool for referrals into HUD units within Pierce County. Greater Lakes staff work with the residents of HUD units to support and help them access services and work towards recovery.
Integrated Medical Care
Greater Lakes Mental Healthcare and MultiCare Health Systems team up to provide mobile medical care onsite at Greater Lakes with a Medical Van. This van is essentially a doctor's office on wheels, and provides a much needed integrated care model for some of the people we serve.  This is especially useful for those individuals who struggle to get to medical appointments in the community.
Supported Living and Residential Treatment Services
The Cedars
Greater Lakes provides supported housing in this small apartment building in Spanaway for those individuals in service who need this level of assistance and who qualify.  Clinicians are available for support, coaching and counseling. 
Permanent Options for Recovery-Centered Housing (PORCH)
This program aims to increase housing stability and encourage independent living among adults with a history of mental illness and housing instability or homelessness. The team works with individuals to help them find housing of their choice in the community and provides support to help maintain their home and become involved in meaningful activities (work, school, volunteer, etc.) and integrate into their community setting. 
Seeley Lake Lodge
Seeley Lake Lodge is a residential treatment facility, available for individuals who are just releasing from an inpatient environment or who need a more intensive, 24/7 care environment for a limited period of time.  Services provided include clinical counseling, case management, skill building, nursing and peer services. 
Inpatient Treatment
Greater Lakes provides Evaluation and Treatment services to adults at our Recovery Center in Parkland.   Most individuals enter the Recovery Center involuntarily by court order, but the majority of individuals convert to voluntary status during the course of their stay.  Individuals in treatment receive 24/7 access to nursing services, counseling and peer services.   Prescribing staff are on duty for some portion of each day.
On-Site Pharmacy
Genoa Full-Service Pharmacy
(Lakewood location only)

Hours of operation:
Monday – Friday 8:30am – 5pm
Phone: (253) 617-7111