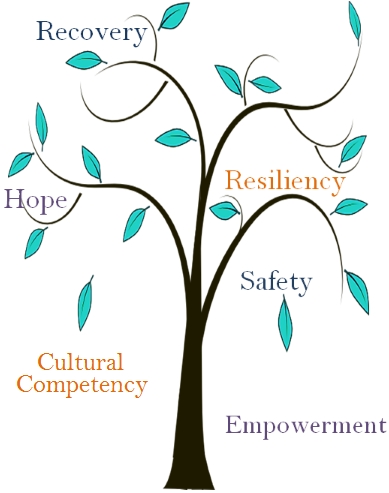 It is estimated that 90% of all individuals served in the public mental health system have experienced trauma.  Given such prevalence, Greater Lakes strives to understand, recognize, and respond to the effects of all types of trauma. Staff are trained in Trauma Informed Care practices upon hire and throughout their tenure as employees. Many clinical staff are also trained to provide evidence based practices (EBP) to treat trauma such as Trauma Focused Cognitive Behavioral Therapy, Dialectical Behavior Therapy (DBT), Seeking Safety, WRAP and others.
As an organization we are committed to the principals of trauma informed care that include:
The creation of environments that are both physically and emotionally safe.
Building and maintaining trust among staff and individuals served, through transparent and trustworthy behaviors.
Providing opportunities for Peer support and mutual self-help.
Partnering through collaboration and mutuality; a true partnering and leveling of power differences between staff and individuals served.
Insuring empowerment, voice, and choice is valued throughout the organization.
Eliminating cultural stereotypes and biases based on race, ethnicity, gender, sexual orientation, age, spiritual beliefs and/or geography.